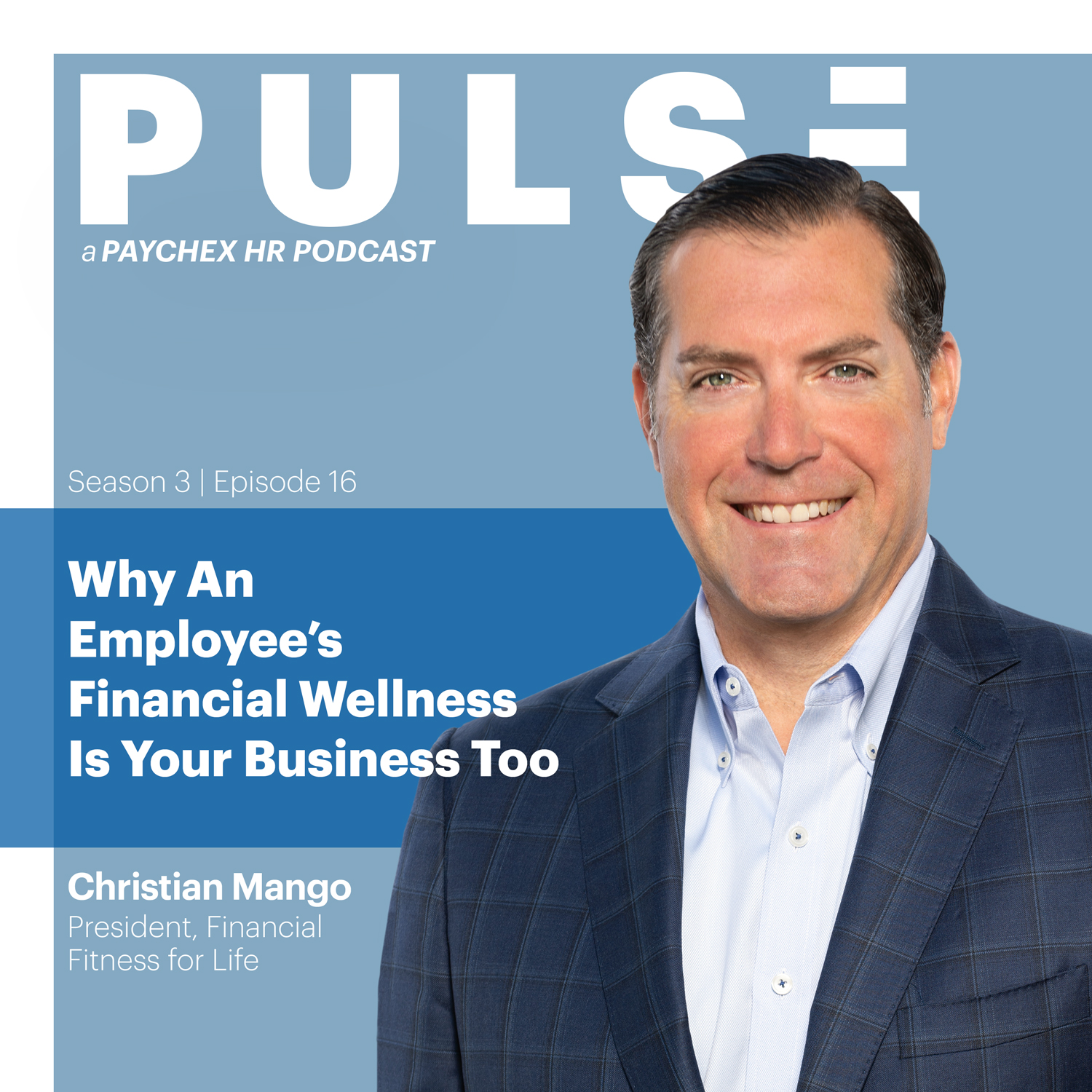 When it comes to deciding on a benefits package for your employees, there's a lot to think about. One area that often gets overlooked but is one that can help you stand out from other businesses, is your financial wellness benefits. On this episode of PULSE, a Paychex HR Podcast, host Rob Parsons is talking with Christian Mango, President of Financial Fitness for Life, about the importance of providing your employees with the right financial wellness benefits, how to get an understanding of what benefits are right for your employees, and how these benefits can help you attract and retain top talent.
Topics include:
00:17 – An introduction to Financial Fitness for Life
00:56 – What is financial wellbeing?
02:32 – Determining what's important to employees
04:02 – The evolution of financial wellness
05:18 – Helping employees navigate your benefits offerings
06:35 – Why personalization is key
08:18 – How Financial Fitness for Life can help
09:52 – Why you need to prioritize financial wellness
12:16 – The benefit of holistic financial wellness
14:07 – Where financial wellness benefits rank for employees
Find out more about how your business can benefit from a financial wellness program at www.paychex.com/articles/employee-benefits/how-employee-financial-wellness-program-benefits-small-business.
Learn about employee benefit trends for 2022 at www.paychex.com/articles/employee-benefits/employee-benefits-trends.
DISCLAIMER:
The information presented in this podcast, and that is further provided by the presenter, should not be considered legal or accounting advice, and should not substitute for legal, accounting, or other professional advice in which the facts and circumstances may warrant. We encourage you to consult legal counsel as it pertains to your own unique situation(s) and/or with any specific legal questions you may have.